Freedom Day is a South African public holiday celebrated on 27 April. It celebrates freedom and commemorates the first democratic post-apartheid elections held on that day in 1994. The elections were the first non-racial national elections where everyone of voting age of over 18 from any race group was allowed to vote. Today, South Africa celebrates Freedom Day to mark the liberation of the country and its people from a long period of colonialism and White minority domination (apartheid).
From 20 to 27 of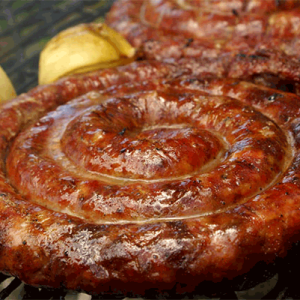 April BahBQ will celebrate South Africa and its people living in Australia showcasing 3 special South African wines and 3 flavours of Boerewors, a type of sausage popular in South African cuisine:
> Chilli Boerewors

> Grabouw (beef & pork) and

> Sosatie (mild curry) 
Special South African Wine List, available from 20 to 27 of April:
The Den: Cabernet Sauvignon 2013


Tasting notes
A medium to full bodied wine with typical Cab flavours of black current, brambly fruit, cigar box augmented by toasty oak. The wine has a lovely rich texture, soft ripe tannins with a long fruit driven finish.
The Vineyard
Cabernet Sauvignon is harvested from a vineyard in the Bottelary region of Stellenbosch. We have blended 10% Swartland merlot from Kasteelsig vineyard and 4% Shiraz sourced from out three partner vineyards.
Winemaking
This wine was made from ripe grapes picked to deliver a rich flavour. Cabernet fermented in tank on a blend of French oak staves, and then completed malolactic and maturation on staves; the wine was finished off with 10% Swartland Merlot and 4% Shiraz, both of which were matured in a mixture of new and older oak barrels.
Ageing potential
This wine is good now, but will continue to improve over the coming 3-4 years.
Awards and Accolades
Platter 3 stars
Bronze Medal Veritas 2015
87 Steve Tanzer USA
Food Suggestions
Enjoy with a variety of meat dishes such as lamb and pork belly.
Black Pack: Shiraz 2010



Tasting notes
A harmonious and balanced full bodied wine with juicy red fruit, savoury smoked ham, crushed white pepper and aromatic wood aromas that follow to a well balanced wine with a long finish. The wine has enough acid and grippy tannin to allow for bottle aging for a number of years.
The Vineyard
Grapes were sourced from vineyards located in Kasteelsig in Malmesbury, Southern Cross in Paarl Simondium and Devon Rocks in Stellenbosch Bottleray. Each site has different terroir bringing a different component to the wine. Vines are between 8 and 26 years old
Awards & Accolades
John Platter 2012 – 4*
Tanzer 89+ points
Bronze Medal Veritas 2015
Robert Parker's Wine Advocate 88
Food Pairings
This robust spicy wine is really good with French country dishes such as Cassoulet or Pork Daube Provencal, and is lovely with grilled regional sausages such as Toulouse or Merguez. Super at a good braai with top grade steak, chops and the very best Boerwors.
The Pack: 'Guillermo' Swartland Pinotage 2012


Tasting notes
An intense, rich wine packed with flavours of ripe blueberry and mulberry, exotic spice and creamy vanilla with evident ripe tannins and a long lingering finish.
The Vineyard
Organically certified Pinotage grapes were sourced from the Kasteelsig vineyard which is owned by Painted Wolf Pack members Billy (Guillermo) and Penny Hughes. The site is primarily red Glenrosa soil with some Oakleaf – both shale rich duplex soils and these vines are not irrigated. Kasteelsig supplies grapes for some of South Africa's top boutique wines. Yields are around 8 tons to the hectare.
Winemaking
The grapes were hand picked into small baskets and taken to the cellar where they were hand sorted, destalked and gently crushed. The wine fermented with a mixture of natural and commercial yeasts in small open fermentation bins with 4 to 6 punch downs per day. Before the wine was totally dry, we pressed and placed it in oak barrels to complete alcoholic and malolactic fermentation. The wine matured in a mixture of French, Hungarian and American oak barrels for roughly 12 months, approximately 50% new wood.
Ageing potential
This wine drinks well as a young wine, but will improve gaining additional complexity for at least 6 to 8 years from vintage.
Awards & Accolades
Finalist Diners Club Winemaker of the Year 2015
John Platter Guide 4*
Robert Parker Wine Advocate 89 points
Commended International Wine Challenge 2015
Food Suggestions
This is a super food wine and pairs well with a lot of deeply flavoured dishes. It does well with exotic flavours and exotic confections such as Peking duck, Sticky sweet and sour pork belly, braised beef shanks with polenta and gremolata, wild mushroom risotto.